Quiet market, focus on U.S. jobs data, but Easter vacations around the world【April 7, 2023】
April 07, 2023
Markets Analysis
Fundamental Analysis
NASDAQ and S&P 500 rebounded slightly, with limited price movement
Focus on U.S. Employment Statistics; Volatility May Rise Whether Good or Worse
If the U.S. Employment Statistics are favorable, the prospect of interest rate cuts will recede; if they worsen, there will be fears of a recession
Almost all major markets except Japan are closed, quiet market
IMF warns of low global growth outlook for next 5 years
Technical Analysis

The New Zealand dollar fell sharply. The market has been quiet, resulting in less volatility overall and a consolidation of positions. The market is difficult to forecast in the short term.

The dollar has rebounded without breaking below JPY 130.60 and is hovering around JPY 131.70 at the time of writing. Depending on the U.S. Employment Statistics, the market outlook could change significantly.
New Zealand Dollar (NZDUSD)
Analyzing the NZDUSD technically, a return high was formed around 61.8% of the Fibonacci retracement, and yesterday's sharp decline took it below 38.2%. An uptrend line can be drawn, which does not indicate a downtrend, but a large sell order may be in the pipeline.
A clear break below the uptrend line would make the moving average the next support band. How the dollar moves on today's jobs report will likely determine the trend for the coming week.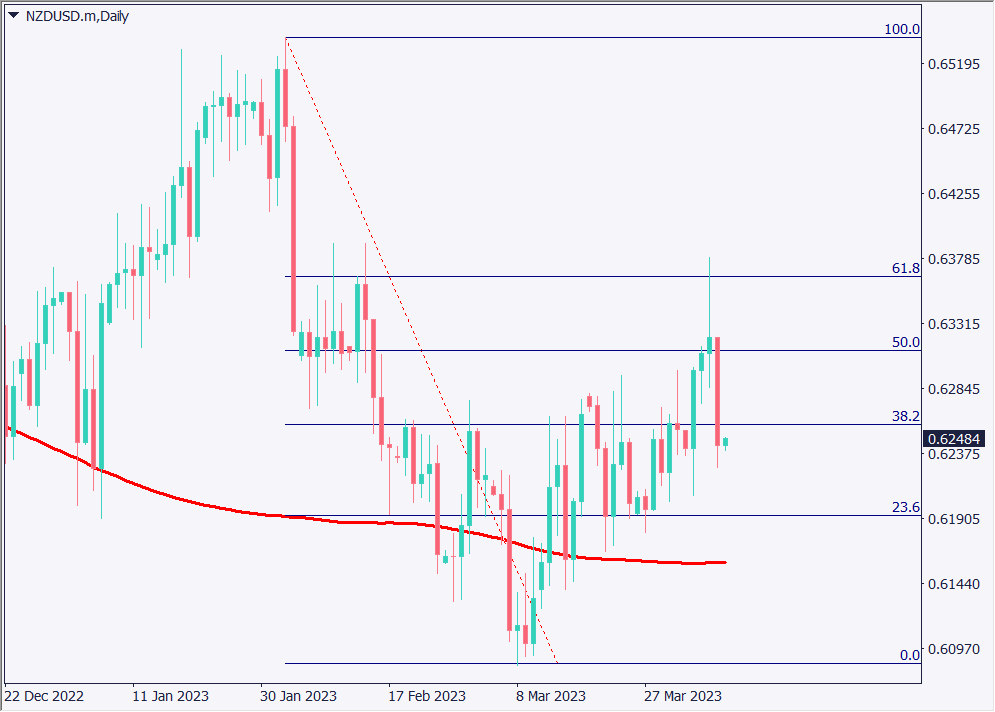 | | |
| --- | --- |
| Estimated range | USD 0.6180 – USD 0.6307 |
| Resistance line | USD 0.63 |
| Support line | USD 0.62 |
Dollar-Yen (USDJPY)
Analyzing the 4-hour chart of the dollar-yen, the pair rallied to JPY 131.90 yesterday, perhaps due to position consolidation, but the sell-off back to JPY 131.90 became stronger in the morning. A "bearish wrapping leg (outside bar)" in terms of price action has appeared, which is a downside signal.
Since prices are trending above the uptrend, we should be cautious about selling positions despite the downtrend.
| | |
| --- | --- |
| Estimated range | JPY 130.40 – JPY 133.4 |
| Resistance line | JPY 132.64 |
| Support line | JPY 131.20 |
Bitcoin (BTCUSD)
Analyzing the daily chart of bitcoin, we note the possibility of a "top island reversal" shape emerging. Although it has not occurred at this time, bitcoin has not been able to break out of USD 28,000, although it has risen through the window with great momentum.
If today's jobs report were to turn down and open a lower window to begin the next candle, a "Top Island Reversal" would be completed. However, the dollar is weakening and we should be cautious in our positions.
| | |
| --- | --- |
| Estimated range | USD 26650 – USD 29930 |
| Resistance line | USD 28850 |
| Support line | USD 27350 |
Today's Important Economic Indicators
| | |
| --- | --- |
| Economic Indicators and Events | JST (Japan Standard Time) |
| U.S. Employment Statistics | 21:30 |
*Trading advice in this article is not provided by Milton Markets, but by Shu Fujiyasu Jr., a certified technical analyst.