USDJPY breaks above range; BOJ decides to maintain monetary policy【June 19, 2023】
June 19, 2023
Markets Analysis
Fundamental Analysis
BOJ Decides to Maintain Monetary Policy; BOJ Says Stable Price Trends Not Achieved
U.S. Fed announces suspension of interest rate hikes, but comments that rate cuts are not expected for about two years
USDJPY rallied sharply on the view that the US-Japan interest rate differential will remain in place for an extended period of time
Major resistance line for the USDJPY at 142.25 JPY looms
USDJPY Technical Analysis
The Bank of Japan decided to maintain monetary policy. It maintained its view that the long-term price outlook is not stable. The effect of this decision was to weaken the yen across the board, and the dollar-yen rallied sharply. The dollar is now close to 140.25 JPY, which had been a resistance line. 142.25 JPY was the return high in November 2022, and then fell to 127 JPY.
We expect that the future direction will be determined by whether the current rally can take the pair above 142.25 JPY.
Day Trade Strategy (Hourly)
Our trading policy for the dollar/yen is to buy at the push. If the Japan-U.S. interest rate gap is to be considered, last week suggested that the interest rate gap will remain open for a long time to come. The yen's overall weakness will make the dollar relatively easy to buy.
The 142.25 yen level is a major daily resistance line and is likely to be recognized. It would not be surprising to see some profit-taking and adjustment selling. We would like to wait for a push-buying opportunity instead of going after it too deeply.
The daily chart shows that the pair may break out of the range and rise toward the next Fibonacci level of 161.8%. 161.8% corresponds to the JPY147 area. However, a speedy rise would be a factor for currency intervention. We should pay close attention to news.
Support and Resistance Lines
The resistance line to be considered in the future is as follows
142.25 JPY – November 2022 return high
140.15 JPY – 100% of the Fibonacci level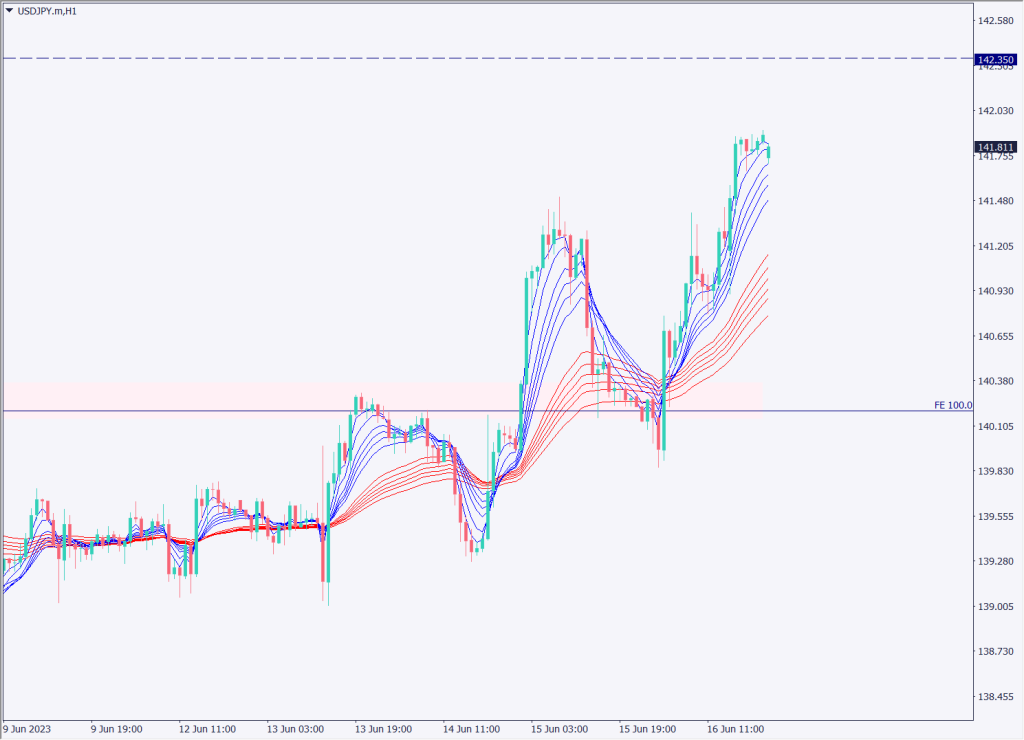 Market Sentiment
USDJPY Sell: 70% Buy: 30%
Today's Important Economic Indicators
| | |
| --- | --- |
| Economic Indicators and Events | JST (Japan Standard Time) |
| U.S. Stock Markets Closed | – |
*Trading advice in this article is not provided by Milton Markets, but by Shu Fujiyasu Jr., a certified technical analyst.