USDJPY hits 144 level, JPY selling strengthens as countries emphasize their interest rate hike policies【June 28, 2023】
June 28, 2023
Markets Analysis
Fundamental Analysis
U.S. Stock Indexes Rebound; Buying Expands, Focused on AI Stocks as Push Comes to an End.
New home sales in the U.S. were strong, confirming the resilience of the U.S. economy.
ECB President says Eurozone peak interest rates are far from peak, emphasizing the ECB's stance on interest rate hikes.
The BOJ stepped up its efforts to curb the Yen's depreciation, approaching its intervention level of JPY 145.
The first time was on Thursday, September 22, 2022, when the yen fell from JPY 145.90 to JPY 140.
The second intervention will take place on Friday, October 21, 2022, London time.
BOJ noted rapid, unilateral moves; June up 3.8%.
USDJPY Technical Analysis
The dollar rose to JPY 144, a level not seen since last November. At a meeting of central governors in Portugal, the ECB president said that the ECB is far from declaring peak interest rates, and other countries also announced their policy of continuing to raise interest rates. The situation in which only Japan has stayed put without raising interest rates has accelerated the yen's weakening.
On the other hand, Japanese monetary authorities have been making an increasing number of statements to discourage the depreciation of the yen, and there are strong concerns that foreign exchange intervention may be in the offing. The first foreign exchange intervention took place on Thursday, and the second intervention took place on Friday at London time, catching the market by surprise in the past.
Day Trade Strategy (Hourly)
Today's day trading policy is to return to the market. Analysis of the 1-hour chart of the dollar-yen shows that the upward momentum is weakening and the pair is losing its ability to make higher highs. We are aware of the risk of currency intervention and the upside may be quite heavy.
We would like to pull back enough to set a limit sell at 144.90 JPY; 144.90 – 145.30 JPY would be a major resistance zone. Stop is 40 pips above at 145.30 JPY; if it reaches 145.55 JPY, we will try to sell again. We plan to trade while paying attention to money management.
Support and Resistance Lines
The resistance line to be considered in the future is as follows
145.90 JPY – 1st foreign exchange intervention level
144.90 JPY – Major resistance line
143.60 JPY – 100% Fibonacci level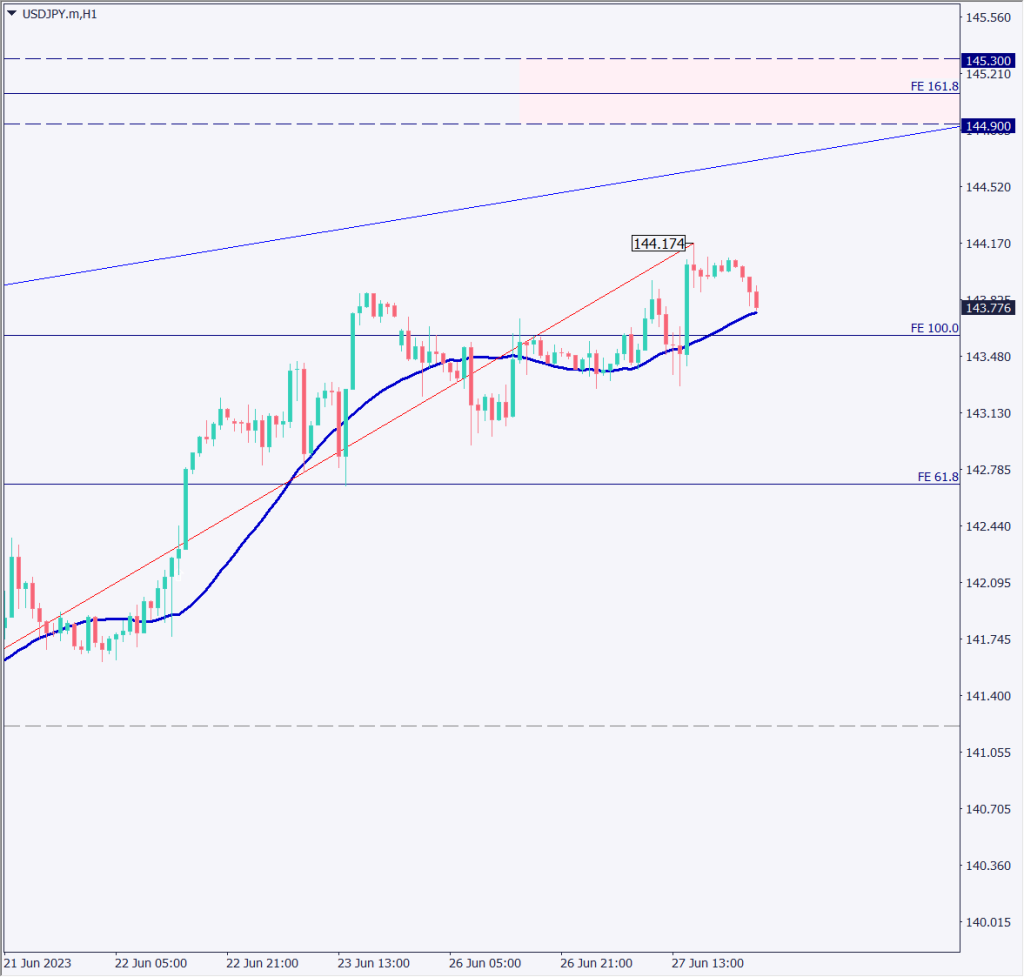 Market Sentiment
USDJPY Sell: 69% Buy: 31%
Today's Important Economic Indicators
| | |
| --- | --- |
| Economic Indicators and Events | JST (Japan Standard Time) |
| Australian Consumer Price Index | 10:30 |
| Fed Chair Powell speaks | 22:30 |
| Remarks by ECB President Lagarde | 22:30 |
*Trading advice in this article is not provided by Milton Markets, but by Shu Fujiyasu Jr., a certified technical analyst.