Dollar-Yen Sees Slight Decline with Heavy Resistance and a Lack of Direction【October 17, 2023】
October 17, 2023
Markets Analysis
Fundamental Analysis
The United States Visits Middle Eastern Nations in Search of Diplomatic Solutions
The U.S. Stance Is Favorable to the Market, Leading to Stock Price Increases and a Risk-On Atmosphere in the Forex Market
Dollar-Yen Experiences Reduced Volatility, Continuing the Directionless Trend
USDJPY Technical Analysis
Analyzing the daily chart of the Dollar-Yen exchange rate, we observe that it is currently trading around 149.50 JPY, with a noticeable decrease in volatility. While the upward trend continues, a clear sense of direction is lacking.
The MACD histogram continues to decrease consistently, and divergence on the daily chart is also evident.
The 24-period moving average remains a point of focus, and as long as it stays above this line, an upward movement seems dominant. A key high on the daily chart is 150.15 JPY, and surpassing this price is expected to continue the upward trend. However, it's important to exercise caution as movements towards a stronger yen could be influenced by the political situation in the Middle East.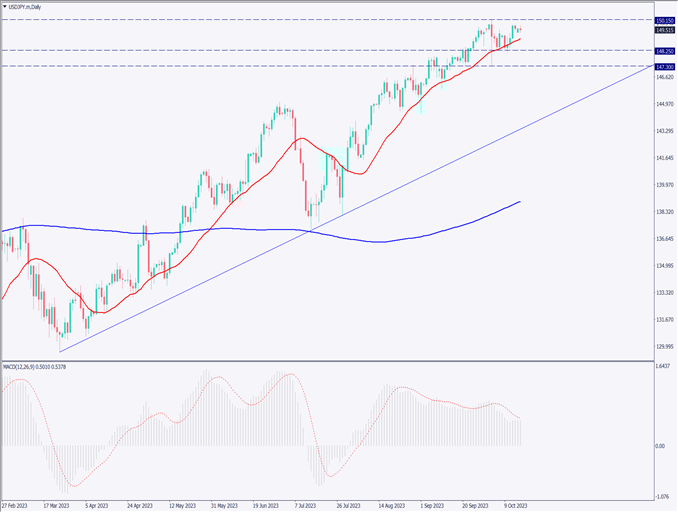 Day Trading Strategy (Hourly)
Analyzing the daily chart of the Dollar-Yen exchange rate, we observe continued consolidation within the Ichimoku cloud. While the uptrend line is barely holding, the conversion line and baseline of the Ichimoku cloud are below, and the lagging line has not yet crossed above the candlesticks. Given this situation, a temporary decline is conceivable if the uptrend line is breached and the cloud is penetrated.
Regarding entry points, buying is considered when the price is sufficiently attractive, specifically with an entry at 149.18 JPY, a stop loss at 148.85 JPY, and a target exit at 149.85 JPY.
Support and Resistance Lines
The resistance line to be considered in the future is as follows
149.76 JPY: Recent High
149.39 JPY: Lower Limit of the Ichimoku Cloud
Market Sentiment
USDJPY Sell: 74% Buy: 26%
Today's Important Economic Indicators
| | |
| --- | --- |
| Economic Indicators and Events | JST (Japan Standard Time) |
| RBA Monetary Policy Meeting Minutes | 9:30 |
| UK Employment Statistics | 15:00 |
| US Core Retail Sales | 21:30 |
| Canada Consumer Price Index | 21:30 |
| FOMC Member Speech | 22:20 |
*Trading advice in this article is not provided by Milton Markets, but by Shu Fujiyasu Jr., a certified technical analyst.