Dollar-Yen Surges to 151 JPY Range; BOJ Decides to Soften YCC but Does Not Abolish【November 1, 2023】
November 01, 2023
Markets Analysis
Fundamental Analysis
The Bank of Japan (BOJ) softens YCC, allowing interest rates to exceed 1%
While YCC isn't abolished, it progresses towards normalization; market sentiment is more dovish than expected, leading to a weaker yen.
Dollar-Yen targets a high of 151.97 JPY; entering the 152 JPY range indicates a new phase.
USDJPY Technical Analysis
Analyzing the daily chart of the Dollar-Yen exchange rate. It was ranging narrowly for two weeks but broke upwards following the BOJ's policy announcement. The policy effectively accepted interest rates of over 1%, but since YCC wasn't abolished, the market seems to have taken this as a dovish measure.
The Dollar-Yen is forming an upward channel, with room left to the upper line. From the Fibonacci expansion perspective, 152.77 JPY looks to be the target price. If it breaches the 152 JPY range, it might exceed the 2022 high, leading to a new phase.
However, there's caution regarding a significant rise in long-term interest rates and concerns over foreign exchange interventions, suggesting an ongoing tug of war between the market and the BOJ.
Day Trading Strategy (Hourly)
Analyzing the 1-hour chart of the Dollar-Yen exchange rate. Yesterday, it surged to 151.77 JPY, recording a significant increase of 2.7 JPY. A strong trend of Yen weakening and Dollar strengthening is evident. In the Ichimoku Cloud, it has breached the conversion line, and RSI has dropped after exceeding 70, indicating potential for a pullback.
Given the continuous one-sided surge, caution is advised for new entries. Buying at high levels is risky, so it would be wise to wait for a dip before entering.
For day trading, the strategy would be to buy on dips with entry set at 150.58 JPY, take profit at 151.65 JPY, and stop-loss at 150.20 JPY.
Support and Resistance Lines
The resistance line to be considered in the future is as follows
152.77 JPY – 100% Fibonacci Expansion
150.17 JPY – Support line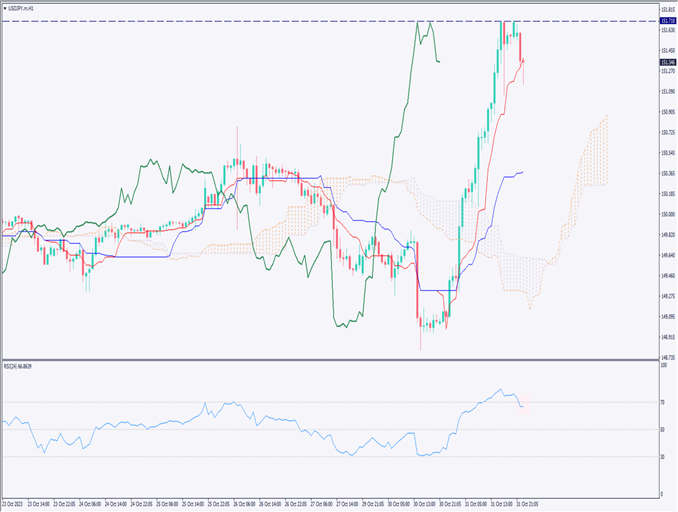 Market Sentiment
USDJPY Sell: 86% Buy: 14%
Today's Important Economic Indicators
| | |
| --- | --- |
| Economic Indicators and Events | JST (Japan Standard Time) |
| US ADP Employment Report | 21:15 |
| US ISM Manufacturing Employment Index | 23:00 |
| FOMC Statement & Policy Rate Announcement | 3:00 (next day) |
| Press Conference by Powell, FRB Chairman | 3:30 (next day) |
*Trading advice in this article is not provided by Milton Markets, but by Shu Fujiyasu Jr., a certified technical analyst.