USDJPY did not generate strong JPY trend, BOJ made YCC correction【July 31, 2023】
July 31, 2023
Markets Analysis
Fundamental Analysis
YCC Revision at Friday's BOJ Meeting, Raises Long-Term Rate to 1.0 Percent
YCC revision also spiked to 141 JPY level due to short-covering; Governor's dovish message
Short-covering may pause and the JPY may try to strengthen again
USDJPY Technical Analysis
Analysis of the 4-hour USD/JPY chart confirms a strong Fibonacci retracement of the recent major downtrend. 141.950 JPY corresponds to 61.8% and is falling back. Although the pair fell sharply immediately after the BOJ policy announcement, buying interest is strong and the pair has recovered to near half of the 141.15 JPY level.
A downtrend line can be drawn from 141.955 (recent high). One of the signals that will signal an upward move is whether or not the downtrend line will be broken to the upside.
Day Trading Strategy (Hourly)
Taking into account the 4-hour analysis, we will analyze the 1-hour chart; looking at the 1-hour chart, we can see that the highs are cutting down. MaThe resistance zone at 141.15 JPY is very strong, and the YCC's raising the interest rate ceiling is likely to be perceived as a step toward the end of the current easing measures, and we expect the upside to get progressively heavier.
As a day trading strategy, we would like to aim for a selling direction. We expect to sell near the downtrend line and buy back at the latter half of 139 JPY. If the price clearly crosses above the downtrend line, we will set a stop loss.
Support and Resistance Lines
The resistance line to be considered in the future is as follows
140.15 JPY – Half price of the recent downtrend
140.28 JPY – Fibonacci 38.2%.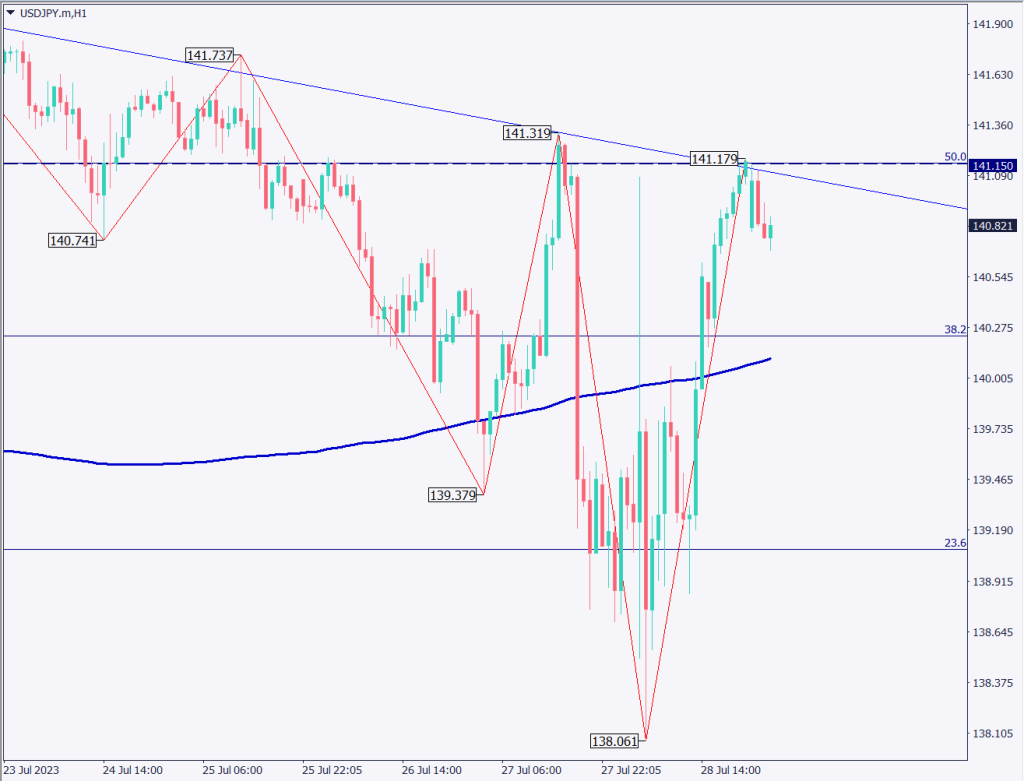 Market Sentiment
USDJPY Sell: 59% Buy: 41%
Today's Important Economic Indicators
| | |
| --- | --- |
| Economic Indicators and Events | JST (Japan Standard Time) |
| China Manufacturing PMI | 10:30 |
| Eurozone Consumer Price Index | 18:00 |
*Trading advice in this article is not provided by Milton Markets, but by Shu Fujiyasu Jr., a certified technical analyst.