USDJPY falls sharply, weakening U.S. dollar as U.S. labor market weakens【August 30, 2023】
August 30, 2023
Markets Analysis
Fundamental Analysis
U.S. Job Openings Hit Two-Year Low, U.S. Labor Market Shrinks Slightly
US dollar weakens as additional rate hike speculation recedes; change in trend direction?
USD/JPY forms a high shadow line and falls to the upper 145 JPY level
USDJPY Technical Analysis
Analyzing the daily chart of the USDJPY exchange rate, after rising to the 147-JPY level, the dollar has turned weaker, falling to the upper 145-JPY level due to weak U.S. economic indicators. The candlestick formed a high negative line, a sign of increasing selling pressure.
Furthermore, divergence is emerging in the RSI, which indicates a weakening of the upward trend. The trend may turn, especially amid weakness in the U.S. labor market. Today is the ADP employment report. If it falls short of market expectations, the dollar may fall further.
Day Trading Strategy (Hourly)
Analyze the hourly chart of the USDJPY market. The short-term moving average is below the medium-term moving average and a dead cross has occurred. This is a sign of a short-term downtrend, and we believe it is appropriate to look for a place to sell.
The trade strategy is to return to the market. Entry guideline is to sell near 146.20 JPY, with a settlement target of 145.60 JPY and a stop loss set at 146.50 JPY.
Support and Resistance Lines
The resistance line to be considered in the future is as follows
146.28 JPY – Pivot point
145.60 JPY – Major support line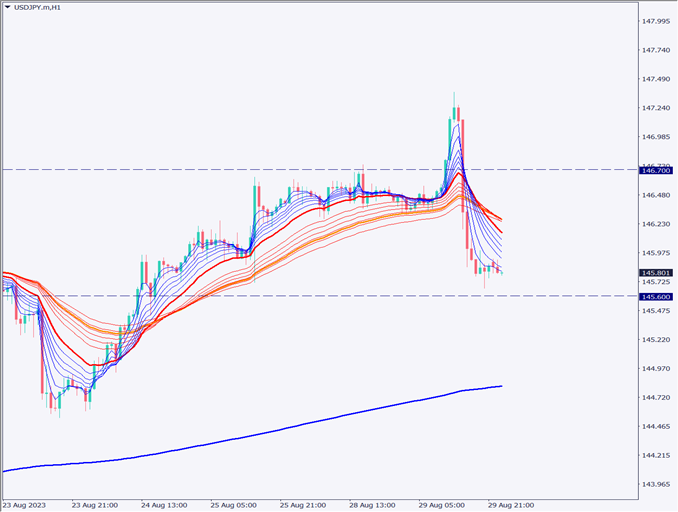 Market Sentiment
USDJPY Sell: 63% Buy: 37%
Today's Important Economic Indicators
| | |
| --- | --- |
| Economic Indicators and Events | JST (Japan Standard Time) |
| German Consumer Price Index | 21:00 |
| U.S. ADP Employment Report | 21:15 |
| U.S. Gross Domestic Product | 21:30 |
*Trading advice in this article is not provided by Milton Markets, but by Shu Fujiyasu Jr., a certified technical analyst.