USD/JPY Falls as U.S. Labor Market Shrinks, Raising Speculation of an End to Interest Rate Hikes【November 17, 2023】
November 17, 2023
Markets Analysis
Fundamental Analysis
The U.S.-China summit concludes, agreement on military-level dialogue but no resolution to conflicts
U.S. unemployment insurance claims increase, indicating a slight contraction in the labor market
Crude oil prices drop significantly, breaking the USD 75 support line, falling into the USD 72 range
USDJPY Technical Analysis
Analyzing the daily chart of the USD/JPY pair. Currently, the price has fallen to the mid-150 JPY range, reflecting the increase in job seekers due to the rise in U.S. unemployment insurance claims. This has lowered the likelihood of further interest rate hikes, leading to a rise in stock prices and a cheaper dollar.
The market is currently enveloped by the high and low of a large bearish candle formed three days ago, requiring caution for strong future movements. A drop below 150.22 JPY could accelerate the yen's strength. The Ichimoku Kinko Hyo suggests a potential market peak, with prices below the Conversion Line. The expected U.S. interest rate cut could lead to a narrowing interest rate differential, potentially strengthening the yen.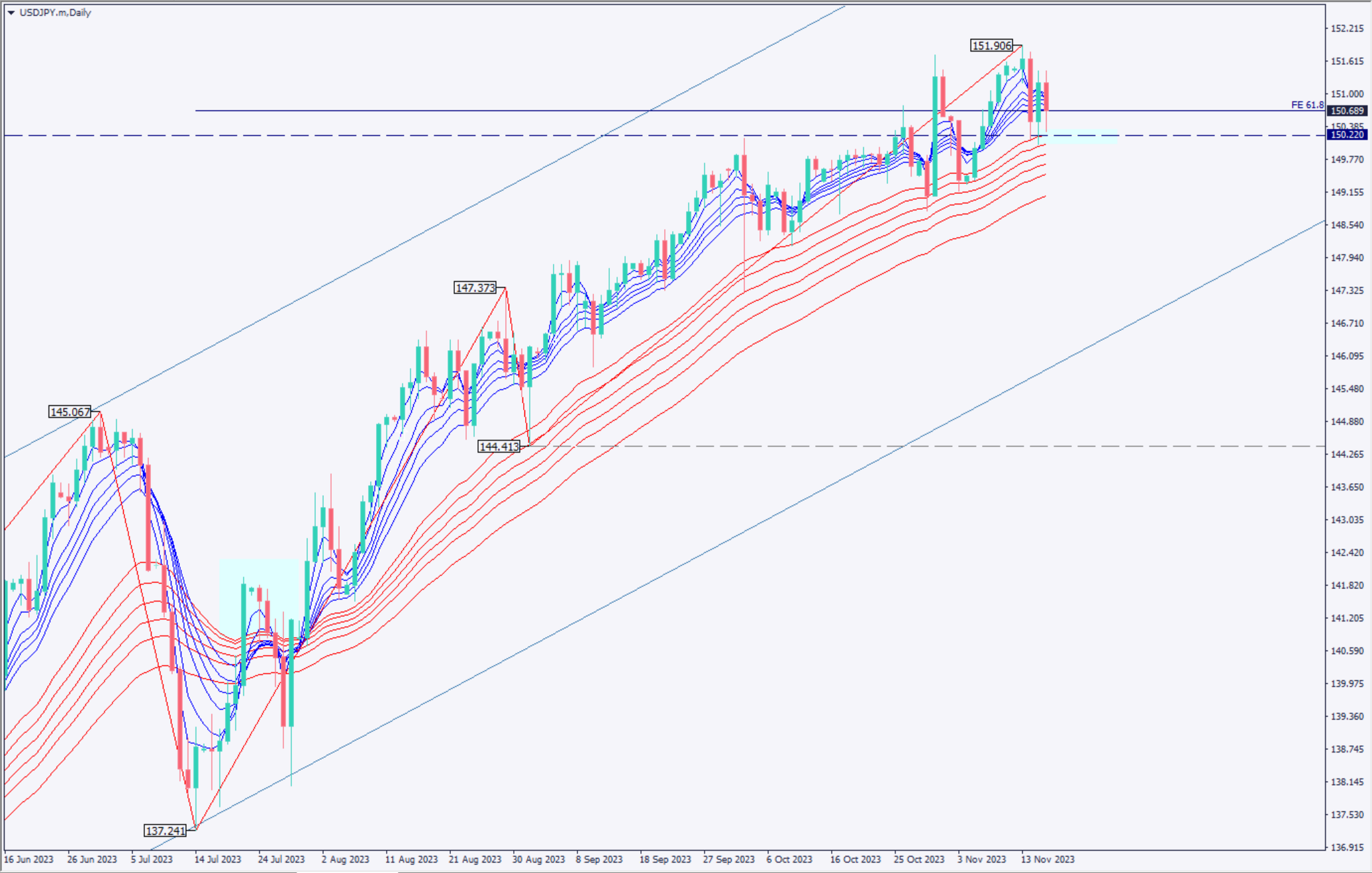 Day Trading Strategy (1-Hour Chart)
Analyzing the 1-hour chart of the USD/JPY pair. Currently, a strong downward trend is visible, aiming towards 150.220 JPY. Today's pivot point is around 150.80 JPY, with a strong resistance above 150.75 JPY.
The RSI stands at 45, and the MACD histogram is beginning to form a valley. Yesterday's low was 150.285 JPY, which did not break below 150.220 JPY. Considering the daily chart pattern, there is a possibility of retesting the low.
For day trading, consider selling on a rebound near 150.75 JPY. Set the take-profit at 150.22 JPY and the stop-loss at 151.20 JPY.
Support and Resistance Lines
The resistance line to be considered in the future is as follows
151.48 JPY: Major resistance zone
150.22 JPY: Major support zone
Market Sentiment
USDJPY: 66% Sell, 33% Buy
Today's Important Economic Indicators
| | |
| --- | --- |
| Economic Indicators and Events | JST (Japan Standard Time) |
| UK Retail Sales | 16:00 |
| EU Consumer Price Index | 19:00 |
| U.S. Building Permits | 22:30 |
*Trading advice in this article is not provided by Milton Markets, but by Shu Fujiyasu Jr., a certified technical analyst.